To create an effective keyword list that helps you rank and get relevant traffic, it's important to conduct keyword research and find out the most popular words and phrases people use when searching for your business or services. It's also important to consider what makes your business unique in order to stand out from the competition.
A great place to start is by asking yourself some questions such as: What are the terms people use when searching for my product or service? Which keywords are most associated with my brand? What makes my products or services unique compared to my competitors? Doing this will help generate a list of potential keywords that can be used as part of your keyword strategy.
You should also consider looking at popular search engines such as Google or Bing, where there are a variety of tools available that can show you which keywords are being searched for most often. For example, Google Trends allows you to compare how different words or phrases have been searched over time so that you can get a better understanding of what types of searches people make on a regular basis.
Searchin goin Google Has Become the Norm
It's no surprise that searching online has become second nature for most people on the planet. Whether you're looking for your personal needs like shopping or looking for a business/service. You no longer have to pick up the yellow pages or a phone book in order to find what you want.
Back in the late '80's and early '90's, I always knew the Internet would be part of everyone's future. But back then, working for a traditional agency, people thought I was crazy. It was a hard sell, getting people to create their online presence, but today, it seems everyone has a website. Most can't be found, though – that's where using an effective SEO strategy comes in.
Using SEO For Results
I've seen and heard some nightmares, and I usually chalk them up with "you get what you pay for". But I must admit, a lot of people and businesses really don't understand the benefits of using SEO in their campaign.
Recently, I started a Meetup group by the name of San Francisco SEO Consortium. From novice to veteran, the prevalent attitude seems to be "SEO is black magic, the unattainable, or the best way to get taken advantage of."
Bah humbug! Take a minute and consider all the information out there. More often than not, there are great success stories where people use and apply SEO methods that are based on strong data, research and, as Doc Sheldon calls it, "gut feeling."
Hopefully, after reading this article we can put your mind at ease. The best way I can walk you through the important aspects is to break them down into bite-size explanations. Therefore, keep in mind that each company, business and campaign will have its own requirements, which will entail various SEO and marketing approach. Yet, I'd be misleading if I didn't start by telling you no matter what you read or heard, keywords are still very important. Period. I'm sure you will hear varying opinions, but when you consider how people search for anything online, it's evident people will use keywords to fill in their query.
Keywords Are Your Foundation
You can see from the image below no matter what and where people search, they will automatically use keywords.

Something I've also discovered through the years is, unbeknownst to them, businesses are targeting specific keywords. Simply put, search engines will pull these keywords from the text on your page. This can be your title, header, on-page text, links, inbound links, etc. What most business don't take into account is that they may be targeting the wrong keywords. That's why it's extremely important before you add any content to your site, whether it's images, .pdf downloads, etc. that you spend time figuring out what the right keywords are. Keep in mind, there are variables in choosing your primary keywords. It will have an impact not just for your short term, but also how you can grow your list of keywords to include secondary and tertiary keywords.
The best way I've found to choose your keywords is to break your business down in terms of how people associate what you do. Or better yet, when people mention the name of your company what's the next thing out of their mouths?
For example, if you're a florist, then obviously the words flowers, florist, etc. will come into play. But what if you're a specialty florist that has air plants? Or what if there are over 500K searches for florist? Therefore, it's important that you understand what your primary keywords will be. Don't worry about the competition, that's something a lot of companies put far too much emphasis on. We'll get to that later. Once you've come up with at least 10 main keywords that explain your business make sure they have at least a relatively high number of search volumes, are relevant and the competition must be relative.
Creating Your Special Keyword List
In order to create your initial keyword list it will involve some creative thinking on your part. Therefore, gather all your employees, friends, family and clients in order to come up with as many keywords as possible.
Use your services or products in your terms (e.g. Florist, Flower Shop, Gardner, Horticulturist);
Use variations of your branded terms (e.g. Flowers by Gina, Gina's Florist, Park Florist);
Adding your Geo location is great (e.g. San Francisco Florist, Noe Valley Flower Shop);
Include specialties in your terms (e.g. Air plants, red azaleas, exotic flowers);
Adding descriptive variations (e.g. Wedding Bouquets, Large Flower Arrangements, Exotic plants);
Ask your clients how they found you in search;
Take all the variations and enter them into the Google AdWords Keyword Planner, which will give you more variations to choose from.
If the keywords chosen don't have the search volume don't discard them but push them down the list. Eventually, you can use them in order to capture your longer tail keywords. Personally, I like those since I can create content that's relevant to my topic and have optional words I can build content from.
What About Your Competition?
As I stated earlier, don't worry about them. Competition is good for business. It will keep you on your toes and keep you thinking – nothing wrong with that. So how do you deal with competition or competitive words? Simple, two words – Authority & Relevance.
How Do You Build Authority
Search engines assess authority with a plethora of algorithms. No one really knows what they all are, but what we can all agree that links play a major role. It's all about your link profile. As a matter of fact, I recently wrote a post Does Anyone Even Know What a Healthy Link Profile is? It's worth taking a look… I'll wait. Now keep in mind, If your links are healthy, without crap pointing to your domain, then you've got a better chance than your competition who may have paid someone in a third world country to come in and build them a shitload boatload of links.
Nine times out of ten, those links will have no value, and eventually Google will smack them. Therefore, start creating your authority by having relevant material on your site that other companies want to link to. A variation of links from other websites to yours is one of the best ways to build links. If you have a gorgeous exotic flower display at a hotel, take pictures, show it off on your site, Pin it, write about it, share it on Facebook – do everything you can in social media to make your fans and followers aware of your latest creation. You see links are one of the biggest forms of Authority. But it has to be RELEVANT. It can't be a link from some chiropractor in Budapest.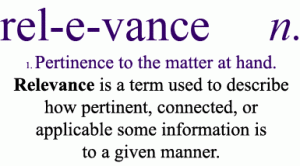 How Do You Create Relevance
Page Relevance – Therefore, the original link should be relevant to the page being linked to. Simply, that link from the chiropractor blog in Budapest to your Flower Shop home page is toxic. Don't do it, you will be penalized, if you haven't been already.
Context Relevance – That where you either have to hire a creative writer or you have to become a wordsmith extraordinaire. Writing about exotic plants from various parts of the world with images, can not only be sensational, but including images or a video can really push those creative juices.
Social Relevance – Are you sharing your beautiful flowers with your social circles? Are you even active on social media? Not everyone should jump into social, mind you, unless they have a plan. As a florist I can think of many reasons and ways to get your fans talking about you. But as I've stated previously, images and videos would definitely be in the mix.
In closing, let me assure you there are oodles of sites out there sitting on a gold mine with ample opportunities to be found. Therefore, when using a strategy involving a healthy dose of SEO, there's no reason why you can't watch your quality traffic grow. Please feel free to talk to us – we can discuss a strategy involving various elements like social and content development that will improve your quality of leads in order to be easily found on search engines.