There's nothing like getting off the grid for three weeks. Funny thing is, I didn't miss it as much as I thought I would. Sure, I missed my morning routine: my home, Lucy and, of course, my social connections. That's on a personal level, though.
I'll admit I also missed working on projects, finding solutions and the focus of mind that comes when getting ready for the next conference call. We become such creatures of habit, don't we? Especially, it seems, when working online.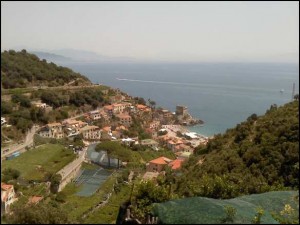 While on hiatus, I was filled with great ideas and plans for the future of Level343. They were random thoughts of how I could do things better – all the while trying to disconnect from the grid. Some of these thoughts were along the lines of:
We're growing.
I understand growth and success are the ultimate goals for anyone, no matter what dream, field, market or area. If you think these aren't your goals, you're fooling yourself. What I really discovered during my trip, however, is all the hard work and drive one pours into those goals always comes at a price.
That price can be something as confining as being chained to your work (in my case, with Level343 going on 6 years), or loss of sleep from working through the night, or less time with the family… the price you pay depends on your situation. The hard work isn't the point, really, but the journey we've taken to get there. The good, the bad, and yes, some ugly, has made our team resilient and aware of our networks.
Are we "there" yet?
Far from it, but we've grown in leaps and bounds without really seeing or knowing it. If you work for yourself, you know there are always things to be done. It takes time management, including an understanding of what's a priority and what isn't. Even if you have a team of five to ten people, you still have to manage that team. What tools are you going to use? How are you going to schedule things? God forbid you're deal with International clients like some crazy SEO companies do… oh yeah, like us!
It's not easy working for yourself, although I've been doing so now for almost 20 years. I have no kids to worry about, but I do have personal priorities that need to be dealt with on a daily basis. There've been some good times, lean times, and times when I had to get a second job in order to keep food on the table. As a business owner, however, I know I wouldn't have learned or built a strong business without those dead end and lean times.
Until I left for three weeks, I didn't realize…
There's still a wonderful world out there. Did you know there are people that get things done without a computer? They don't live, breath, eat and shop on the Internet!
For example, while in Germany, I was expecting to see lots of mobile action going on, especially among the youth. So, imagine my surprise to see most of them out enjoying each other's company. The cab drivers were completely connected, with GPS, mobile and some other hardware – all the bells and whistles – but other than that… Basically, Germany is hooked up, but not the way I thought it would be. That just goes to show you how much we think we know, just because we live and work on the Internet.
Everybody needs to unplug every once in awhile…
After this experience, I promote and encourage you to try unplugging for a week. Get completely off the grid. Take this break from the online world as a reason to look around at the world and the people in it. Smell the flowers. Watch the birds. Drink in the sunshine.
Getting out and looking at the world around you gives you a different perspective – to use all your senses: something you really can't do when you're stuck on the Internet. This is especially true if you work with international clients like we do. They want to know you're the right company for them. What better way than to take them out to dinner and listen to their dreams and plans – without the interruption of other business?
Me, I was still trying to run a business 3,000 miles away. Was I successful? Honestly, I don't think so. I felt a complete disconnect from my social circles, and the numbers now that I'm back are proof.
What could I have done better?
Well, a few things. I could have chosen to stay connected entirely (i.e. not left) and missed life, family and memories I will cherish forever. I could have completely disconnected, and taken a complete vacation without any involvement of work.
Instead, I chose to soak up the sun and people watch, listen to what the Italians were saying, enjoy the beauty of the Swiss Alps, and engage Frankfurtin what they do best – enjoy the outdoor cafes. In between times, when there was Internet, I got online and checked in, tried to make sure as much was running smoothly as possible, and that all was right with the business. I mean, sure it was a vacation, but as a die-hard businesswoman, I was still connecting the dots for Level343's future.
Running social should be like the Mob runs… everything else…
While connecting the dots, I was doing so the only way I know how: meeting, talking and listening to people. When I found out we have a few mobsters in the Sannino clan I thought, "you know, that makes total sense… social, mob, mobsters…"
It's all networking, and networking is good business – Now, your computer taps you into the largest network in the world, but the Mafia was the first social network. You need something, so you reach out to this contact or that contact. They might hook you up with a friend of a friend, or know somebody in this country or that country; it's all networking.
Be straightforward – This isn't a court of law; you don't have to "tell the whole truth and nothing but the truth". However, being discretionary isn't the same as lying. Be precise and say things in clear, easy to understand ways (so, you know, Uncle Guido doesn't come to your house for clarification).
Don't say something unless you can do it – Once trust is broken, it's hard to get it back. In the Mob, breaking trust could get you killed; in business and networking, breaking trust can eventually equal destroying your business.
Paying your debts and collecting on them are both important– Unpaid debts, whether they're owed to you or you owe them, can bring serious consequences in the Mafia. "You owe Don Corleon $20,000, Lucas, and I'm here to collect…" (murder, mayhem and the obligatory torture ensues). The same goes for business. If you don't pay your debts, you end up buried by it; if you don't collect, you don't make money and your business dies anyway.
Choose your associates wisely – You don't have to like or follow everyone. Return the favor if they come visiting your blog and see if they're someone worth following. You know that time you spend doing things: looking through Google Alerts, RSS feeders, Twitter and all that? Take five minutes and read their blog. Interact – you never know when and what inspiration or work you will get from them. It's almost like marrying your daughter off to a good and dear friend; that's what nurturing relationships is all about.
Conclusion
It's amazing what you learn when you take a few days or weeks off. Now I'm back home at my desk, enjoying and reading all the mentions I missed from new friends and old friends, or listening to the garbage truck picking up around our street. Some things never change on Monday mornings.
It's up to you, if you want to feel the growth of yourself and your company, get away for awhile. Social will exist whether you're on or not; it's the connections you make that matter. Because I went off the grid, I can share a ton of new ideas!