Today, we're going to take a look at how YOU are inviting people to comment on your blog. The big question is, is it easy? Can they just comment, or do they have to jump through hoops, give you their first child or sign over their house to comment?
It's time for some tough love, people. There's no other more off putting action than telling them they have to sign up to comment. When you get ready to comment on someone else's blog, how willing are you to go through the song and dance you're putting your readers through?
CAPTCHA, which most probably can't read
Registration required to comment
Required fields such as email and website
Third party commenting programs (Example: Disqus)
Yes, yes – you have the nice, cushy privacy policy note that says you won't sell their information toPakistan, and you swear you won't spam them, but what of it? They don't know you from Adam! They just got here, just met you, and you want them to go through all this rigmarole just to say "hi".
Help Yourself to the Comment Fridge
When you invite someone to your house and tell them they can dig through your refrigerator contents, most people won't even go near the kitchen. They'll tip toe around until they get comfortable with you.
The same thing goes with a blog. You can throw all sorts of goodies at your readers, who have an open invitation to walk through your "house" anytime they want. Yet, until they're comfortable with you, they aren't going to share their golden knowledge nuggets or thoughts with you.
The Third Party "Come As You Are But Log In First" Comment Platform
Third party comment platforms, like Disqus, are everywhere. Now, some people swear by Disqus. Some people swear at Disqus. Me, I'm of the latter variety. Yes, it makes signing in easy, but only if you're registered on a social network, on Disqus, or have an OpenID. Not everybody has these things.
Then, you have the fact that Disqus hosts your comments. If you, for any reason, decide to remove the plugin from your blog, the comments go with it. I know – we had it happen to us.
Third party plugins are all well and good if you want a pretty comment system, but there are reasons people are going back to the old WordPress stand by. Instead of making it hard for people to comment, maybe you should start making it easy, fun and worthwhile.
Making Your Comments Stand Out and Your Commentators Feel Special
You don't have to have a plain jane comment system just because you're using the one native to WordPress. There are plenty of ways to show that comments are important to you, and that your commentators are, too. Here are just a few of them:
Live Comment Preview
Live Comment Preview lets your commentators see what their comment will look like ahead of time. It's easy to implement; just upload and activate.
TwitterLink
TwitterLink allows your visitors to add their Twitter user name in the comments. Extra social value for them.
G.A.S.P
Growmap Anti Spam Plugin is an excellent replacement for Akismet. Akismet may send legitimate comments into the spam folder; for those who just click "empty spam", you may be deleting some of the best comments you've ever received. G.A.S.P. provides a CAPTCHA–free way to proving you're a human: the checkbox.  It also has features that allow you to customize it to your own audience.
KeywordLuv
We hate it when people spam our blog with keyword names. –But, KeywordLuv is a little different. One, you have to provide a real name first. Two, we can set how many approved comments you have to have before this feature is enabled. If the feature isn't enabled, it automatically strips the keywords from the name. This gives us the benefit of not having to dig through a whole bunch of keyword name comment spam, and gives our frequent commentators a little more value.
CommentLuv and CommentLuv Premium
CommentLuv is an excellent way to reward your readers for commenting. It provides a little link love back to the commentator's most recent blog post.
CommentLuv Premium provides a powerful combination of CommentLuv (with extra features), TwitterLink, G.A.Sp. and KeywordLuv plugins. In a few seconds, you have great anti-spam and three wonderful ways to give your commentators that little something extra.
DoFollow
Native WordPress slaps a "no follow" tag on name links in the comments. Combined with CommentLuv, you can set links within the comment text to "do follow" based on:
the number of approved comments a person has
whether they're logged in or registered or
no criteria – just let the link love flow
Comment Reply Notification
Comment Reply Notification allows your readers to receive an email when their comment is replied to. This is a great way to keep them coming back and interested in the conversation.

Dashboard Luvvers Widget
Integrated with the premium version of CommentLuv, the Dashboard Luvvers Widget gives you the ability to see the links your commentators have left through CommentLuv. This way, you can visit the links, read, and leave your own responses.
As well, it's great comment management. The Dashboard Widget shows you which comments on your blog have yet to receive a reply.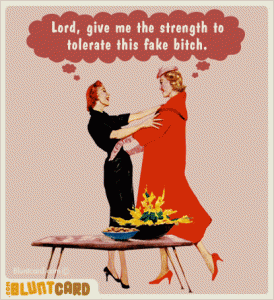 Thank Me Later
Thank Me Later sends an email to your commentators with a "thank you" note for commenting and invite them back. You can use the native email or write your own to give it that special human touch with a hint of you.
All of these plugins are "gifts" you give you reader. They make it easy for people to comment, give them value, and show that you think they're special. –And your readers are special; without them, you'd have no real reason to blog.
Oh, and by the way, with the exception of Thank Me Later (which we'll be adding soon), these are all plugins we've implemented on our own site.
Conclusion
So ask yourself, Is Your Blog's Comment System Inviting or Pushing Away?
You can test them out by… well, leaving a comment!