The almost hegemonic presence of video content at the moment has already compelled 87% of businesses to adopt this marketing method. To boot, 91% of businesses feel using video content will improve their ROI.
But, is video important for SEO?
Yes, SEOs know they have the perfect tool in their hands. A tool that can among other things improve the ranking as well.
Before you start making videos, here are a few tips to improve your rankings with video content. And before we get started, if you want to absolutely nail this down, make sure to check out what's trending in 2020 in terms of video.
1. Make your videos catchy
Video or moving visual images have been around for a long time. Yet, there is something fascinating about video content that grasps and holds our attention. Besides, compared to images and text content, videos are much more informative and engaging.
But not all videos make the cut. There are millions of videos made every day. To beat the competition and attract Google's attention, your video must be special. It should educate and explain, convey emotions, induce laughter, and/or trigger an action that you want the user to take.
So you really need to make sure you hit the nail right in the head with your filming, with the video editing and with the entire production process in general.
If your video can produce a chuckle, then you have great material that can encourage longer stays, more shares, and repeat visits.
Humor content is not everyone's forte and very few include it on their video marketing roadmap. Educational and informative content is equally popular. Users will spend a longer time with your video, if you're helping with a decision, answering their queries, or expressing an opinion with which they concur.
How does time spent watching a video help improve SEO?
One can't just assume that dwell time boosts your SEO stature. Google uses more than 200 factors to determine how to rank pages. To date, it has neither confirmed nor denied bounce rate and time spent on a page as factors that affect the page rankings.
Nonetheless, if users spend a long time on a page or website, watching one or more videos, then Google has a strong reason to believe that your video is relevant to the search term.
Google algorithm also believes that longer stays build trust and that there is good and useful content on the website.
2. Hosting Your Video both on YouTube and Your Website
There is a dichotomy of opinion on whether to host videos on YouTube or on your website. We recommend hosting on both for better performance and results.
How does hosting videos on YouTube and websites improve SEO?
Next to Google, YouTube is the second most popular search engine and a high authority site (inbound links from here will definitely push your page range higher in Google SERP).
Plus, since the parent company, Alphabet, owns Google and YouTube, you can very well guess the significant impact of videos on your search engine rank.
Besides, there is a school of thought that video content produced by local and small businesses benefit from secondary actions generated on YouTube. Finally, shifting videos to the streaming platform will help improve the load time of the website (which is a Google ranking factor).
Borrowing from the previous section, hosting videos on your website can increase user interaction with the website. More views and longer stays mean better SEO. Also, every time the user shares a video, the website and your brand are shared as well.
3. Include a Video Transcription
According to a video marketing survey by Wyzowl, an average person consumes approximately an hour and a half of video daily. If the studies show that video has an edge over other forms of content, then what's the purpose of adding transcripts?
Before moving to the SEO benefits of video transcripts, here is why the text content matters. For one, transcripts boost engagement. It's true; not everyone has the patience to sit through the whole video, particularly when it is a long one. With transcription, users can get to the point which they feel is important faster.
Instead of consuming the video as a whole, a well-structured transcript enables the user to browse the main points and return to the video later.
Moreover, transcripts broaden the reach of the message you want to convey. Users with hearing impairment, sitting in a noisy surrounding, or with slow internet connectivity rely on transcripts to consume your content.
How does video transcription improve SEO?
The Google search engine algorithm is still not advanced enough to crawl and understand a video. It can gather technical information such as tags, keywords, etc. that you provide. The algorithm relies on the rest of the content on the web page to understand the theme of the video and the website.
The main function of video transcription, besides making it more accessible, is to allow the Google spider to browse and pick up keywords, context, intent, and relevance of the content. This will boost your Google rank.
A transcript works as an additional channel to drive traffic to your website. Plus, having the text version of the video creates link-building opportunities. You can add internal links to drive traffic to other useful and relevant pages of the site. Furthermore, with external links in the transcription, you can link to authority websites.
A 2020 video marketing study shows that web pages with embedded videos had 5x more engagement than a text-based only webpage. And we all know that Google loves user engagement and keeps an eye on social signals.
4. Optimize Videos to Reduce Load Time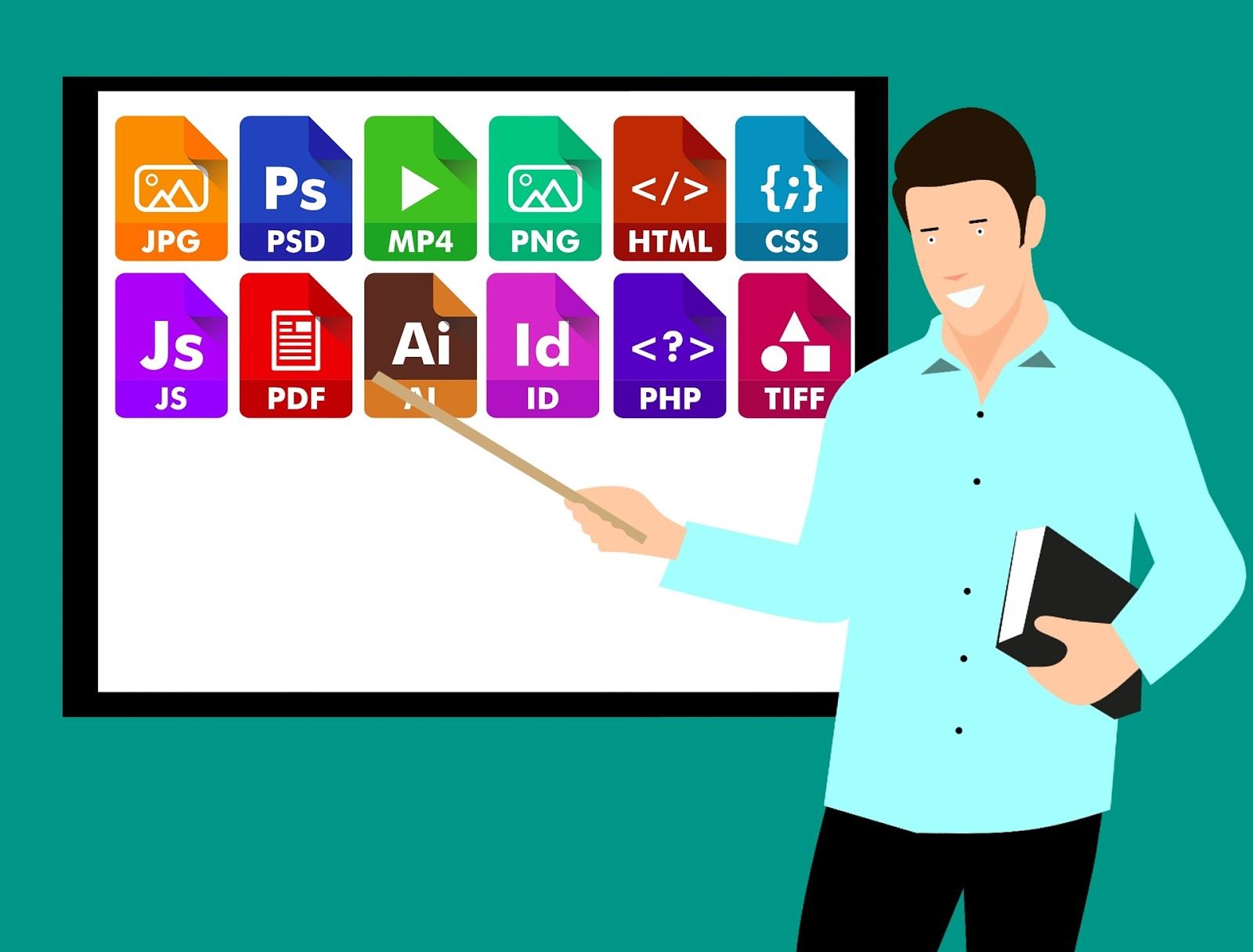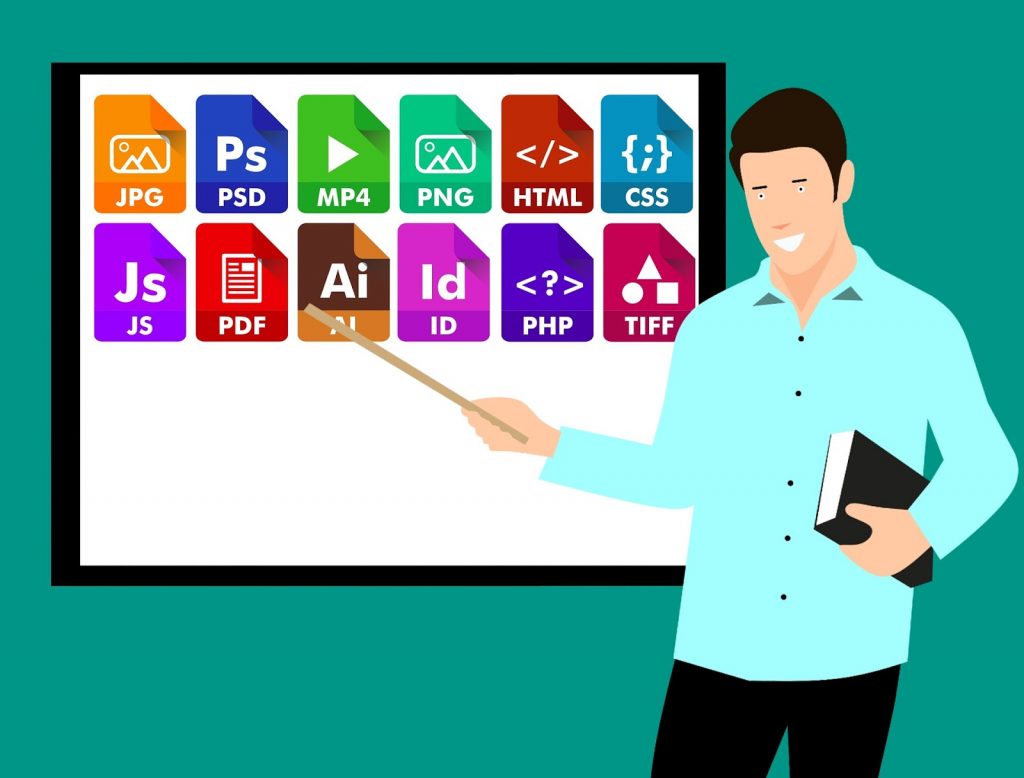 For a change, let's first look at how load time can improve SEO?
Google takes page load time seriously; so should you. Just this fact should be enough for you to optimize the videos on the website to boost the load time. But there is more.
Lack of patience and instant gratification has become the norm, instead of the exception in society. You might have exceptional video and text content, but this will amount to nothing if the pages take time to load.
There is a direct correlation between load time, bounce rate, and time spent on the page.
According to a survey, longer page load time negatively affects user experience. The study that exclusively focused on mobile users found 57% left a web page after waiting for 3 seconds for the page to load.
How to optimize video content to minimize page load time?
Hosting the video on YouTube is one way, but we will stick to our suggestion of having the video on both the website and YouTube. There are a number of SEO video optimization techniques, here are a few:
Use tools like HandBrake (screenshot below) and Blazemp to reduce the video size without lowering the quality. It's up to you to find the right balance between video quality and size.
Make use of Content Delivery Networks (CDN) to improve the overall performance of the website. The CDNs allow the web page to be served from the server closest to the request location.
Use HTML5 format to reduce the dependence of heavy video plugins.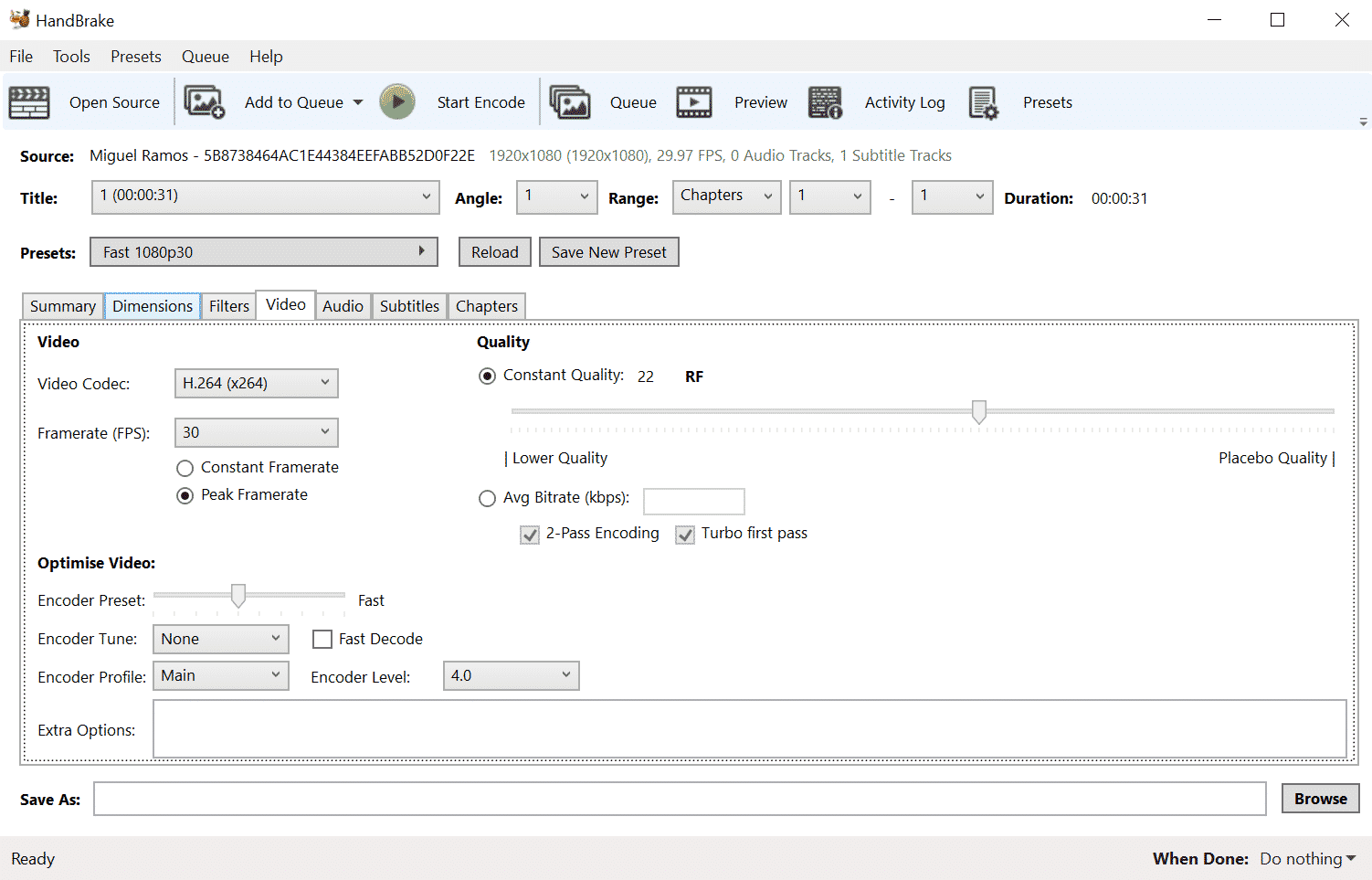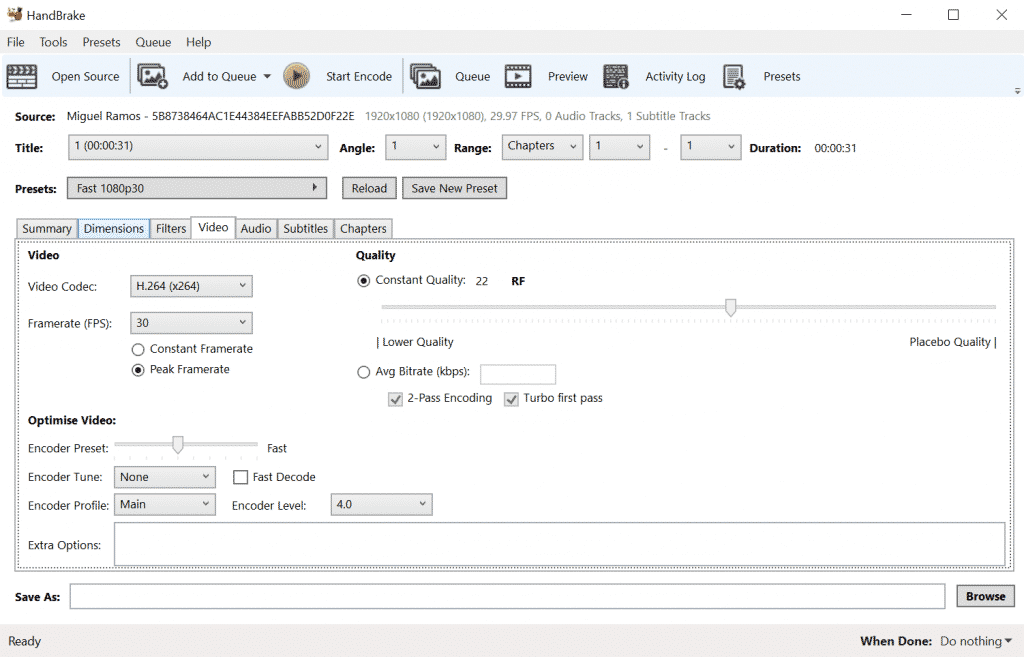 5. Add Technical Information for Crawlers to Identify the Videos
Videos are no different from images or texts. As an SEO, you need to supply technical information for the search engine bots to categorize, rate, and prioritize the videos. YouTube is a crowded place with billions of videos and millions queuing every day to join the crowd.
Google and YouTube can't listen or watch videos yet. So, help them by tagging videos for SEO. You should add the title, keywords, and description tags.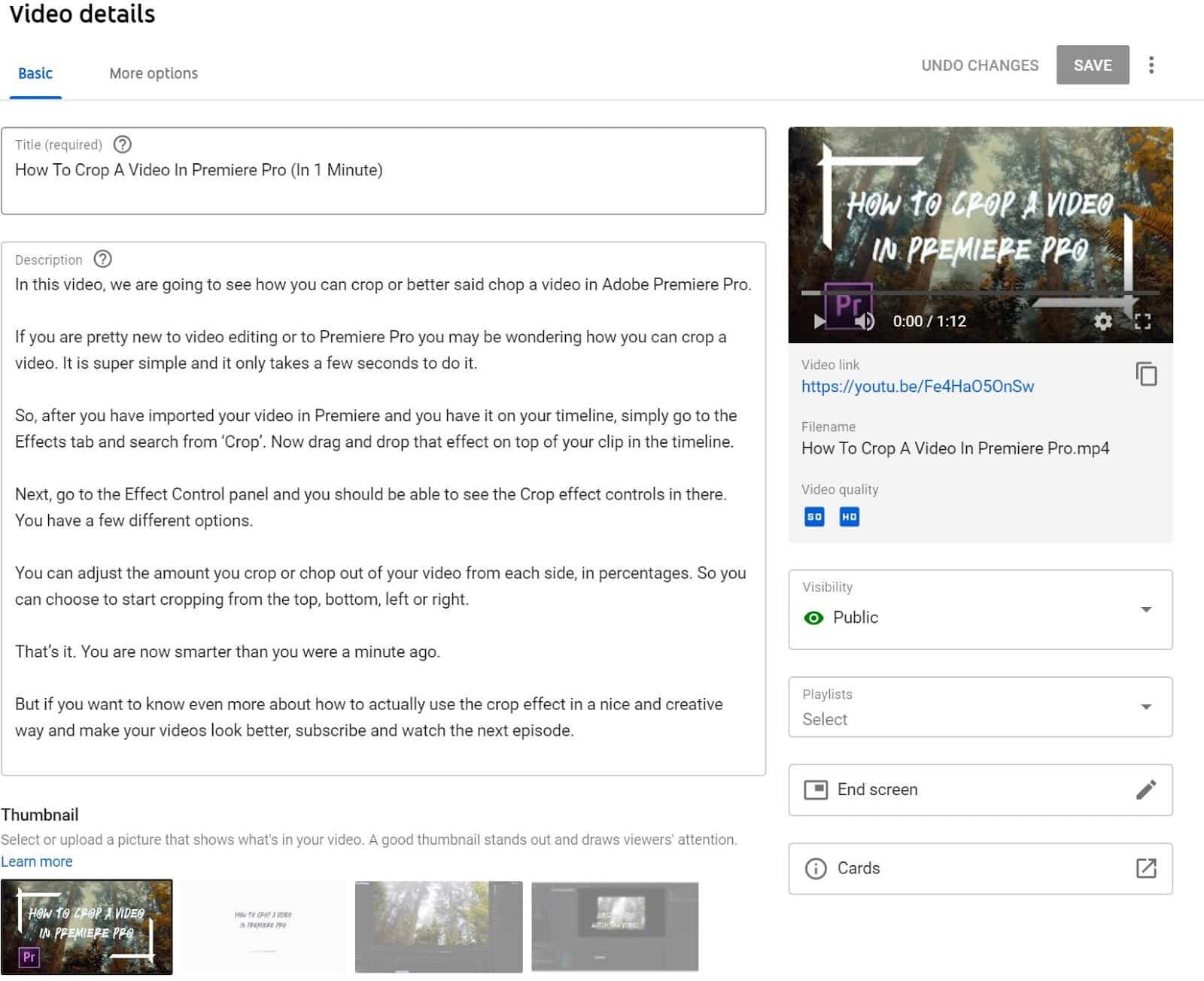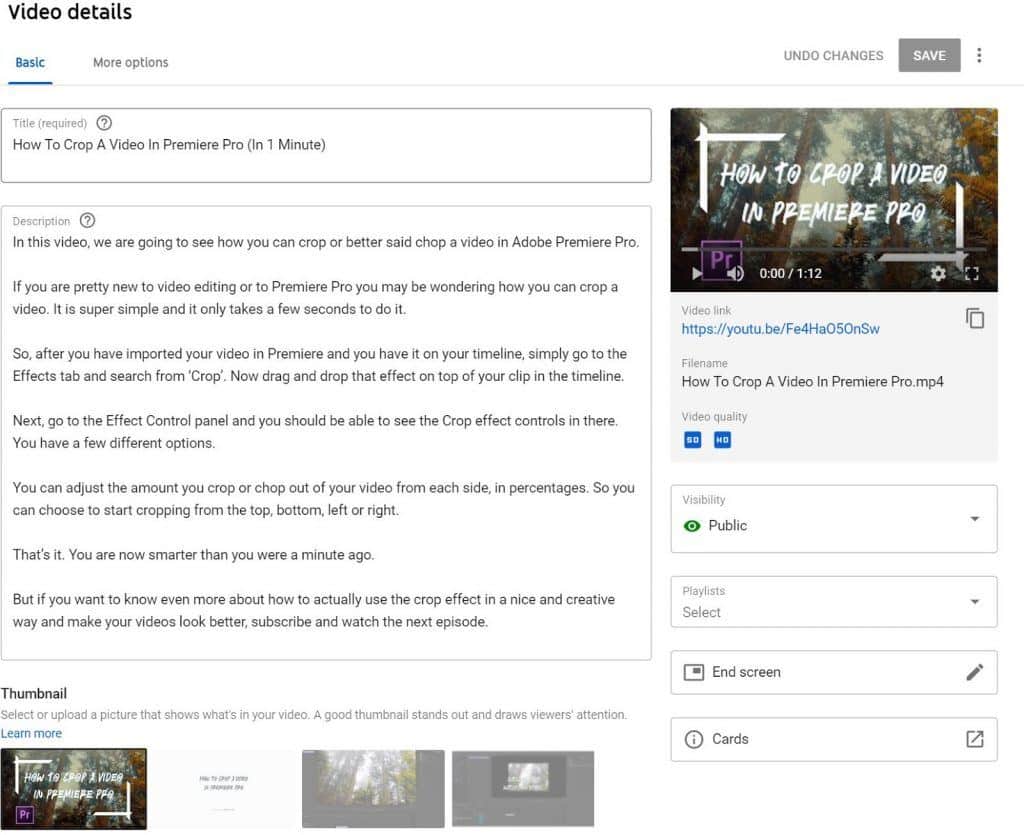 Then there are other metrics such as likes, dislikes, video length, comments, and the number of subscribers that play a vital role if you want to improve your rankings with video.
Is there something more you can do to improve the ranking of your videos?
Title, keywords, and tags are not enough. Give the YouTube search engine something solid to munch on, like long descriptions. Well written descriptions help YouTube understand the video. In addition, long descriptions help videos rank for long-tail keywords.
Supplement the general sitemap with a separate video sitemap or Rich Snippets. The information that you can add to the video snippets includes rating, video length, age appropriateness, view count, embedded or not, URL, and other details. Bear in mind to choose a snippet type that's relevant and best suited for the kind of video you have created. Adding rich snippets will help show videos in search results.
6. Leverage Social Platforms for More Views, Shares, and Links
For the nth time, I'm stating something we all agree to be true. Video SEO statistics don't lie. We have seen a steady rise in daily video views, across social media platforms, year-over-year. In just two years, the popularity of branded videos on YouTube has almost doubled.
There has been a 258% increase in video views on Facebook in just 3 years. Furthermore, people are more likely to retweet a post with a video than a tweet with just an image.
Social media platforms are constantly adding more features that encourage video creation and sharing. Instagram Story and 60-second video features are a huge hit among the masses. Facebook has Live Video and 360 Video, and Twitter has Periscope.
How sharing videos on social media platforms improve SEO?
Adding value-oriented video content increases engagement in social media networks. Search engines consider views, likes, comments, subscriptions and other such features as positive signals. Videos valued by search engines and ranked higher on search pages drive traffic to your website.
Final Thoughts
The rise of 4G and 5G will only increase the accessibility and popularity of videos as a marketing and optimization tool. Users watch, like, share, and remember videos. And, we both know that Google constantly tweaks its algorithm to adapt to the user's habits.
A video SEO strategy that combines a strong message with these tips will boost search engine ranking and draw in visitors to your website.