You spend a lot of time on your content marketing; doesn't it make sense to pay attention to how well it's working for you? Many look at their month-to-month traffic and say, "oh, we had a good month," or "ouch, we had a bad month," and assume that their efforts were successful – or weren't. You can't base the success of marketing campaigns and content marketing on such basic data, however. It's false, and you could end up throwing out the baby with the bath water.
In this post:
Building the Big Picture – Some of the tools to get the data you need

The Bird's Eye View is a Lie – Why you can't take the overview at face value

Listening to Your Visitors – What to do with what they say
Building the Big Picture
Finding out how well your content marketing efforts are doing takes data. Lots of data. For those who love digging into numbers, it's fun. For those who hate numbers… you get to learn how to find them interesting.
Your analytics program is a great place to start. While there are a lot of analytics programs out there, Google has a good suite of tools for you to work with:
Google Analytics

– Simplified, GA tracks website visitors, how they got there, what they did there, and how long they stayed.

Google Search Console

– This set of webmaster tools helps you see how Google sees the site. It provides data such as crawling issues, broken incoming links, and bad robots.txt. It also provides query data, which words your site has ranked for, how many times it's shown up in the SERPs (Search Engine Results Pages) for that term, etc. and ( bonus ) it links to Google Analytics.

Google Adwords

– Also links to GA. AdWords helps you keep track of and market your site on the SERPs. You can research, create and push your ads live, then track their performance.
This isn't a Google ad, so I won't mention the other cool products that Google produces, such as the PageSpeed Test, or the Mobile Test, Google for Business, or the Google Data Center. What I will tell you is that you can gather quite a bit of data for free, and a quite a bit more using Google Business.
There are also numerous companies that track actions through the use of heat maps, such as Virtual Website Optimizer. VWO gives you the ability to see what your visitors look at most with heat maps. However, one of the more interesting choices is visitor recording. VWO records the movements of a visitor on a chosen page – no more guessing how what exactly they did.
Last but not least, there is your site statistics. This could mean your AwStats, straight from your server – which usually differs from your analytics programs. It could mean a plugin, if you have WordPress, Blogger, Drupal, etc. Your analytics won't give you all the data (for instance, if your visitor is blocking cookies); your site stats can give you more.
The Bird's Eye View is a Lie
If you only look at your analytics, you'll get the bird's eye view (BEV – I don't know if that's a proper acronym, but I'm writing this post, so I'm using it). As mentioned at the beginning of this post, many look at the BEV. They see a lot of traffic and say, "Our campaign was successful." Conversely, they see lower traffic and say, "Our campaign failed."
It's a low down, dirty, no-good, yellow-livered, bastardo of a lie.
I have seen this time and again. A client calls me up and says, "I think our campaign has failed. We lost traffic."
"I'll look into it," I say, holding back a sigh.
Analytics say we've lost 1,000 visitors over last month. For a 5,000 a month site, that's a major hit. ⅕ of the traffic? Ouch.
I dig in and find…
a social campaign finished up a few weeks ago. The artificially induced traffic hike has returned to slightly above what it was before the campaign ran.

the month before, an article had been picked up by a well-known website, spiking the traffic.

the site was slammed by ghost referral, and the spam filter we put into place was triggered.
These are a few real life examples we've uncovered when clients or potential clients tell us a campaign failed miserably, and they can tell by the traffic.
On the other hand, we've found that a campaign DID fail, but it was hidden for almost a month because of ghost referrals.
So what's the end take away, here?
Don't just take the BEV's word for it that your campaigns are winning or losing. Dig into the data that shows you the real information before changing something.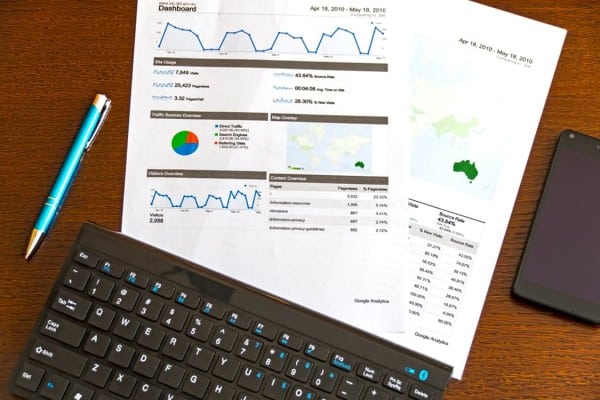 Listening to Your Visitors
Every day, visitors to your site tell you what they think about it. They tell you on social media whether you're part of their "in crowd." You learn on the SERPs whether you have what it takes to grab their attention.
What do you do with all that information? It's called visitor behavior analysis, and it's invaluable information for future marketing campaigns. Are you listening to it?
Here's a sampling of how it works.
Backtracking through Conversions
You have 25 sales. You want to know where they came from, so you can make that happen on  a regular basis. One way to do this – I think one of the easiest – is to backtrack through your analytics. What page did they buy from? Did they get to that page from somewhere else on your site? How did they enter your site?
Pay attention to content and placement of that content. Whatever was done on those pages, you had 25 people give you a resounding, "Yes, we love this."
Pinpointing Content People Like
If you have a blog, look at the data over a time period – we generally look at about three months, but sometimes over a year. There are several metrics to look at here, which can provide great information:
Which posts brought the most visits?

Which posts had a longer average time on page?

Which posts had a shorter bounce rate?

Which ones had more people subscribing?

Which ones were still bringing in traffic at the end of three months?
Once you have that information, you have a full conversation.
More visits = "We're really interested in this topic."

Longer average time on page = "We're really interested in this article; we read this article all the way through."

Shorter bounce rate = "This article was interesting; we want to see more of what the site has to offer."

More subscriptions = "We really like this content and want more like it."

Longer hang time = "This content is still relevant today (three months later). We'd like to see this content turned into evergreen content."
Final Thoughts: Talking Back
If you know what your visitors like, it's easier to create more of it. Ultimately, that what visitor behavior analysis is all about – creating content marketing campaigns and overall marketing campaigns with stronger responses every time.
When you look through your data and listen to your visitors, and then respond by giving them what they like, it develops a deeper relationship. They learn to trust you. They learn to consider you as a thought leader. They become brand advocates; cheerleaders; loyal customers.
In closing, I again ask you: You spend a lot of time on your content marketing; doesn't it make sense to pay attention to how well it's working for you?
Do you need a helping ear to listen to what your visitors are saying? We have data hounds standing by, ready to translate. Call us to discuss your website.