It's often hard to explain to professionals building an online business why content marketing is important. But what if I told you that you could increase lead generation by as much as 63 percent through your content marketing strategy alone?
Yep, you read that correctly. Up to 63 percent more leads.
In addition to lead generation, the key to increased engagement, higher conversion rates, and a more favorable place in the SERPs lies in your ability to create and leverage quality content for marketing and other brand-building goals. Just a few simple tweaks, such as adding video to your website or blogging, provides an exceptionally high ROI with relatively little effort on your part.
In fact, content marketing costs 62 percent less than outbound marketing gimmicks and offers 3x the return for your efforts.
Whether you're already aware of the benefits of strategic content marketing but need some advice or you're looking for newer, better ways to reach your market, we're here to demonstrate why content is king in more ways than one.
The Ins, Outs, and Advantages of Content Marketing
Content marketing is the act of using text, images, and other digital media in a targeted and strategic way to attract, inform, and engage an audience. It takes many forms, and the number of platforms seems to increase almost daily.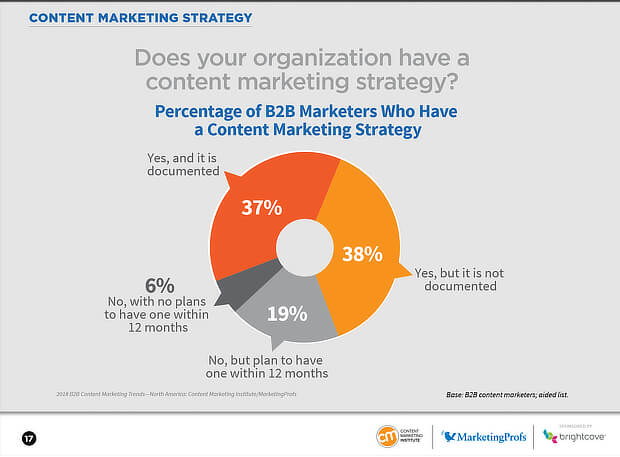 However, content marketing is more than mere advertising. It allows you to tell your story – and your audience's – in a manner that's more compelling than placing an ad or running a commercial.
When the goal is nurturing B2B or B2C relationships, aligning your journey to the customer's builds brand loyalty and improves retention rates. Content connects. It creates awareness and improves conversion rates organically and sustainably. Done right, with quality and consistency in mind, you'll be able to answer questions, address pain points, or demonstrate how your product improves lives in some way.
Creative content plants an image into the minds of your audience by allowing them to envision anything from adventure to efficiency. With the right words, video, and imagery, you can put them into the picture with the results of your product or service in hand. It builds trust and authority, offers social proof, and increases visibility.
However, if you want to reap the benefits of content marketing, you need to know how to create it and where it will pull the best ROI.
The most successful brands have transformed content marketing into an art form that's based on science and data. Consider companies that have done it so successful, the mere sight of their logo tells consumers everything they need to know.
Through activities like studying social media metrics, split testing, and customer feedback, you can even refine and improve your content strategy like a pro without the Big Business budget. It just takes a little information, a lot of research, some creativity, and a dash of diligence.
6 Tips to Take Your Content Marketing to the Next Level
Up to 90 percent of all B2B marketers use content in some form as part of their strategy. However, less one-third know how to use it effectively. If they do know how to create great content, they're having trouble using it consistently or placing it to the best advantage.
Our goal is to change all that and put the odds of success squarely in your favor.
Are you ready for a potential six-fold increase in conversion rates? Read on to discover six great content marketing tips and best practices.
1. Know Your Audience
I've said this before, but it bears repeating: you can't attract quality leads if your audience is a mystery. Knowing your audience takes more than just separating potential customers into generic groups. You have to really do your research to create an ideal persona.
What does your audience look like, how educated are they, where do they work and spend their free time? The more you know about the people you're trying to reach, what they need, and where they congregate online, the more effective your content strategy will be at attracting qualified leads who will convert.
2. Optimize for Mobile
According to a study conducted for App Annie, people now spend more time each day interacting on their smartphones than they do at any activity other than sleeping.
What are they doing on mobile devices? A good percentage of them are interacting with friends, family, and work associates. But, when they aren't communicating with others, they're looking for goods and services.
In fact, more than half of all consumers surveyed state that the ability to shop via mobile device is an important consideration when deciding on a brand. Google also indexes for mobile first, and this kind of accessibility comes into play when ranking web pages.
3. Build Multiple, Targeted Landing Pages
Landing pages fill several purposes. They can either direct traffic to your website, act as an ordering platform, or build your mailing list. Sometimes, they perform all three functions.
Basically, your landing page tells potential customers who you are, what you offer, and how they can get it. However, in a sea full of competitors, it takes more than one landing page to snag a lead.
Rather than creating one landing page per product release or campaign, try creating several. Each page should be engaging and to the point, targeted to a specific, relevant keyword or phrase, and provide a clear call to action.
4. Keep Up to Date
Few things move faster than technology, with the possible exception of consumer behavior and trends. What's trending today can quickly become tomorrow's flash in the pan. In order for you to remain in the game, you have to keep your finger on the pulse of what people want and how you'll provide it.
That means constant research, customer engagement through social media and customer feedback, and networking with other professionals in both marketing and your particular industry.
5. Make Your Content Actionable
One of the biggest reasons for high bounce rates is lack of actionable content. You might tell a great story that draws people in, but it will have no after effect if you don't tell visitors what to do with that information.
Determine what action you would like your leads to take after interacting with your content, and then tell them in no uncertain terms what you want and how they can achieve it.
For example, if the goal is to gain subscribers. mention that at the end of the content just above the subscribe button or form fields. If you're selling a product or course, tell them how much it will cost, what is included in the price, and how they can sign up.
6. Choose the Right Channels for Your Content Type and Audience
Marketing is only a favorable numbers game if those number translate to conversions. In other words, it doesn't matter how many visitors land on your page if they are the wrong visitors or wrong page.
Your content should not just match the segment of leads you're trying to reach, it should also be appropriate to the platform, and placed on the platforms frequented by your ideal persona. If you're trying to attract an audience of seniors, images are more inviting than a wall of text, but only if it's posted where that demographic congregates.
Unsure about where your ideal audience hangs out? Send out teaser posts and gauge the results.
Final Thoughts About Content Marketing
Content marketing involves more than just posting a few items to social media or composing the occasional company newsletter. It means knowing your audience intimately and consistently creating content that reaches them on an emotional level. You also need to know the right platform for each type of content and how to leverage its benefits.
That's where the team at Level343 really shines!
Are you ready to step up your content marketing game? Get in touch with us to request a consultation with a content marketing specialist today. We can't wait to show you what we can do for your business.