Yes, it's true. We don't normally post on Tuesdays. But this isn't just any Tuesday. It's International Women's Day, 2022! -And since we happen to be women, and international women at that, it seemed like it was apropos to not only post today, but to choose today as the day to announce some huge news.
The Top SEO Women™ series is back for good!
If you are thinking "what is she even talking about?", please keep reading and don't forget to click on all the links that you find across this post. I'm bringing an old project back to life, and I want you to know more about the value that it has for me.
What is the Top SEO women™ series?
More than 10 years ago, I started a blog content section called Top SEO Women™, where I was willing to share the achievements of women trying to find their space as SEO professionals in the marketing industry. I was scrolling down on Twitter and I found an interesting article which was featuring 50 female bloggers who talked about marketing topics, but to my surprise, I got to the bottom of the page without finding any SEO women.
As a woman exploring and learning SEO myself, I was completely shocked. It motivated me to do something about it. Of course, I was excited about the idea of finding these gems and sharing what they were doing with the world. This is where my Top SEO Women™ series started: with an article that set a starting point for me to build a supportive project for women who shared the same struggles that I had faced before.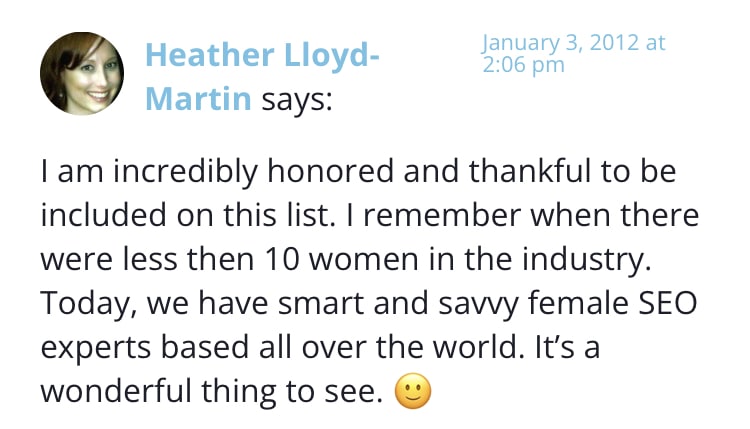 Search engine optimization has been around for a long time and the industry has evolved a lot. 15 years ago, building an online career was a complete challenge for professional women, and the SEO space was no exception. For many, finding our voices and reaching the authority required to run a business or agency was a struggle.
We weren't aware of things like E-A-T, which wasn't added to Google's Search Quality Rater guidelines until 2014, but that didn't stop us from looking for it. A growing number of women had expertise in the field – they'd been in the industry since the beginning – but very few were in the limelight. It was much more likely to see a list of males when SEO experts were mentioned. In other words, we had the expertise and trustworthiness, but it was hard to build up noticeable authority. Knowing that I could do something to help women find their voice was a huge motivation. 
So, with a clear statement in mind and a strong desire to meet amazing women working in the search marketing industry, I started this series. Article by article. Feature by feature. And, surprise! It was well-received by the audience and the positive feedback was (almost – there are always exceptions) all around.
I was really enjoying the collaborations, the nice outcome, and the successful content. However, times were changing as they often do. I reorganized my priorities and the series was not placed on my agenda anymore. But, what had changed exactly? 
Women in SEO then and women in SEO now.
Nowadays female entrepreneurship is finding a safe space in the digital world. Women can reach out to different groups, forums and communities where they will find various options to connect and exchange ideas with other women in the same industry.
Being a female entrepreneur is no longer the struggle that it used to be; you can find lots of women working on content, managing agencies, optimizing SEO for big brands and designing beautiful graphics for different clients. But, does this mean those problems we faced back then are solved? Not exactly.
When I decided to stop with the Top SEO Women™ series, I was seeing and embracing this growing mélange of female entrepreneurs and SEO professionals. I thought the safe space I had created was no longer as necessary as before, so I moved on to new projects.
Today I aim to open that safe space again with a whole new decoration, but the same essence and structure. Even though we can find a lot of women building strong assets on Instagram, Twitter, Linkedin, etc. reaching their financial goals and claiming their own career paths, inequality is still a thing. Our big dreams are often seen as hobbies, our directions are perceived as a bossy attitude, and there is always a man around the corner, ready to explain something that we know.
So, even when there are safe spaces, opportunities and a positive change, I know that creating more spaces, more opportunities and encouraging new positive changes is something I want to do. Society keeps finding ways to make it difficult to be a woman in the workspace, in a position of power and in the business world. So, why shouldn't we keep building ways to make it easier?
Don't get me wrong, things are a lot easier now in a lot of ways. For example, there are so many various ways to help people start out. Definitely, there's a lot more information available, and a lot more supportive initiatives. However, there are still many ways we haven't progressed. And it's to combat those ways that I'm starting Top SEO Women™ again.
If you want to know more about the Top SEO women ™ series, you can start here.
Do you want to tell us your story and be part of this project? Reach out to us and let's get you featured!
Can't wait to tell you more about this. Stay tuned for our launch!